Decor, Holiday
A Patriotic Guide To Home Decor For July 4th
On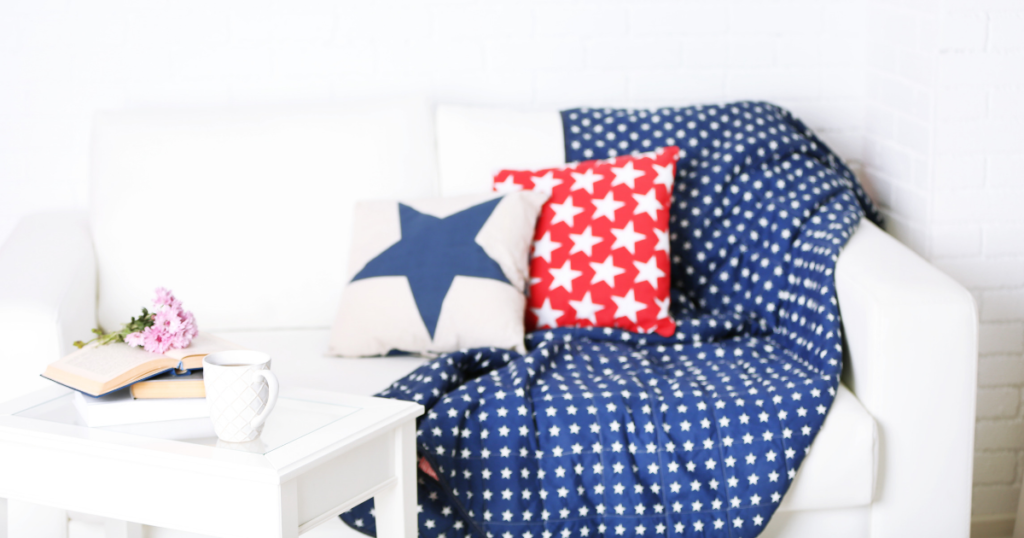 Now that summer is in full swing and the Fourth of July is right around the corner, it's time to get into the holiday spirit with festive décor to help you get in the mood for celebrating. Whether you're planning for a huge party or just want to give a nod to the patriotic day, home décor in red, white, and blue will set the stage. Here are some decorating ideas that will make your home feel extra special this July.
Create A Temporary Vignette
Red, white, and blue is the classic color combination for Fourth of July celebrations. Create a temporary vignette on your bar cart or sofa table by topping them with red and white linens. Arrange vintage blue glass containers of different heights in a pleasing design and fill with all-white flowers like hydrangeas.
Think Outside The Box
Patriotic decorations don't have to be predictable. Instead of the typical stars and stripes, opt for other designs in the familiar color trio. For a more traditional aesthetic that works well in midwestern homes, adorn your fireplace mantel with blue and white dishware such as the classic Blue Willow design. Flank with red glass candlesticks and white tapers. Ground the arrangement with a white lace runner for unexpected seasonal decor.
Use Pops Of Color
You don't need to stick to a red, white, and blue color scheme – any two combined still hint at the special day ahead. For example, feature a red chair with a blue cushion against a white wall. Or, liven up your sofa with decorative cushions in a red and white geometric design. One bright blue throw pillow with a star motif will make a celebratory statement.
Setting the stage for your Fourth of July festivities is just the beginning of the fun you'll have now that the days are warm and bright. For more decorating ideas to help you celebrate the sunny days of summer, check out Tips On Making The Most Of What's Left Of Summer.