Decor
Back In Black: Home Decor Pieces That Will Wow!
On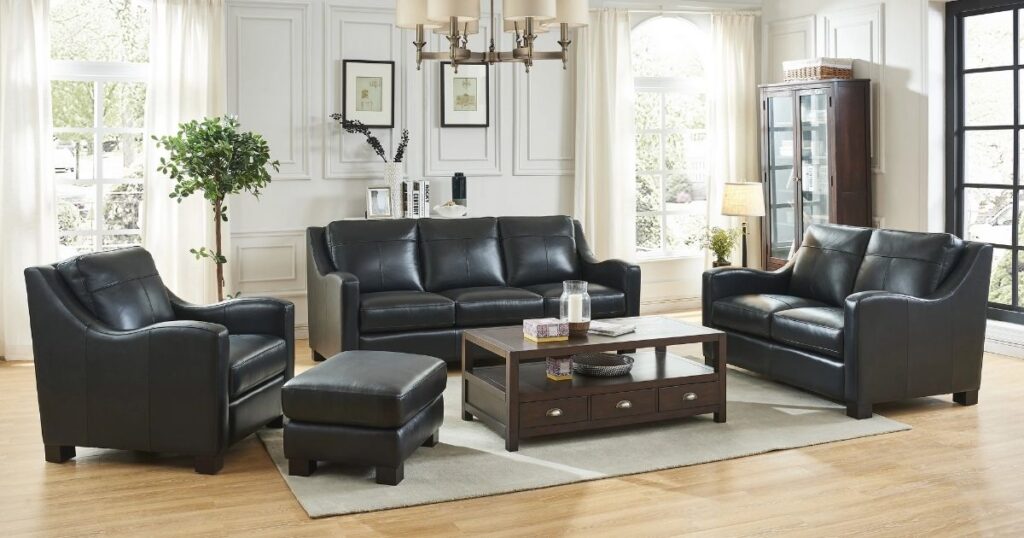 Classic and sophisticated, yet casual and contemporary, black furniture and home accents are trending big right now. Trending, it's true, but not to worry. Adding "right now" basic black pieces to your decor is a tried and true color choice that promises to stand the test of time and trends. If you don't feel bold enough to make a big statement, start by adding an accent piece like a black metal lamp, area rugs, or wall art to your existing decor. Here are some ideas to ease your way into the black decor trend.
A Neutral New Normal
If you lean towards a more neutral color palette, and find that most of your room is cream, white, or shades of gray, this gorgeous Presley black furniture set is the perfect way to ease into the black trend. Why? Black is also a neutral and a classic that will always coordinate other color combinations and designs.
Focal Point Right on Point
Every room needs a focal point and this Mallacar Black TV Stand with Fireplace will warm up any room with style. It features a distressed black finish providing a vintage vibe so if your decor is country, contemporary, or anything in between, a show-stopping piece like this, complete with a faux fireplace, is an ideal place to start.
Chic Calmness
Select black furniture and collections that make you comfortable and relaxed, especially in the bedroom. Furniture designs like our chic Delmar bedroom collection feature faux leather covering and metal hardware providing a chic calmness.
Sophisticated Accents
The industrial decor revolution is also growing in popularity and the perfect complement to black inspired decor. If you aren't sure if either quite suits your style, experiment with different home accents. This black antique metal desk lamp could easily double as artwork for your home office, bedroom, or den.
Your friends at Marlo Furniture will help you find furniture that will outlast the test of time and trends.