Decor, DYI & Tips
Be Bold: Incorporating Bright Accent Colors in Your Home
On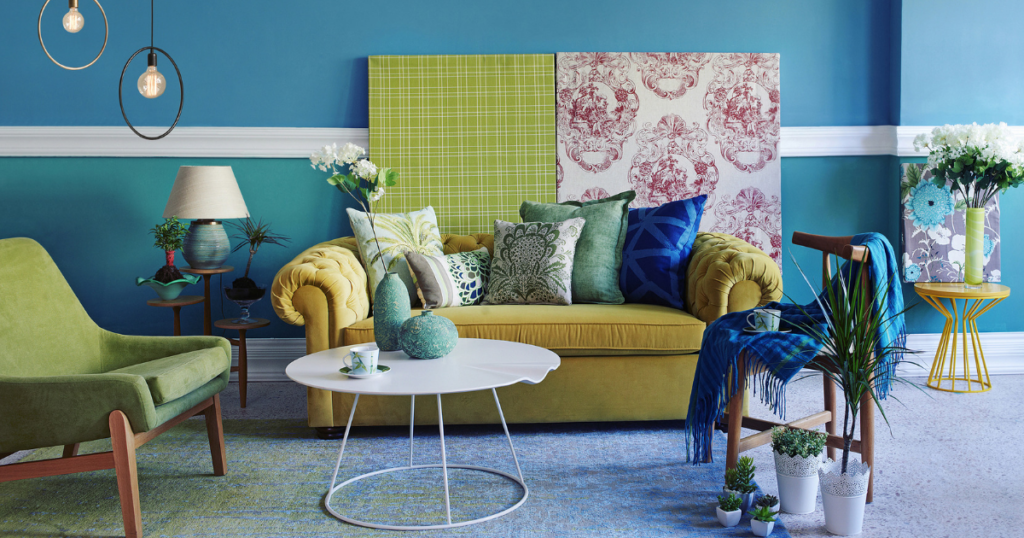 Let's be honest: bold, bright colors can be a little intimidating to include in your home's interior design if you're not familiar with them. You may be tempted to "play it safe" by sticking only to variations of neutral colors like black, white, gray, and brown. While you can't really do much wrong with neutral colors, a sprinkle of accent colors can go a long way in adding more excitement and perspective in your home. Here are a few colors that you should consider introducing:

Green
Go strong by tackling a color that few people will attempt to include. While green has some negative associations (like greed and envy), it can also be associated with growth, harmony, and nurturing. Green can be best paired with either a white base color or something wooden and brown toned. The best and easiest way to include this color is adding houseplants to literally bring some life into your home! If not, something like this pouf ottoman will go well with an ivory sectional sprinkled with other green decor pieces.

Turquoise and Teal
Turquoise and teal are exciting colors within the blue spectrum that can really add pop to your home, if done correctly. Standout pieces like this sequin pillow or this abstract wall art can easily brighten your room. You may also include pieces like a vase to use as a centerpiece for your end table or coffee table.

Yellow
There's a reason why smiley faces are traditionally yellow: this color is associated with happiness, sunshine, and good vibes. Make yellow pop by sticking to dark blue, gray, and white as your main colors. Use a yellow accent pillow for your sofa or bed, or have one piece of furniture that's completely yellow, such as a stool, to make a statement. You may also experiment with decorative string lights or fairy lights to literally add brightness.

Red
Red is a strong, passionate color that should be used carefully; otherwise you may feel overwhelmed by its intensity. However, this color works really well when incorporated into a statement piece like an armchair. Supplement it with blues, whites, and grays. For a more modern, contemporary style, paint one side of a room with this color.

While there's nothing wrong with classic, neutral colors, there are many other colors in the color spectrum that can add variety and brightness to your home. Get out of your comfort zone and test the limits of your creativity and style.