Decor, DYI & Tips
Beyond Barriers: Creative Ways to Divide Spaces in Your Home
On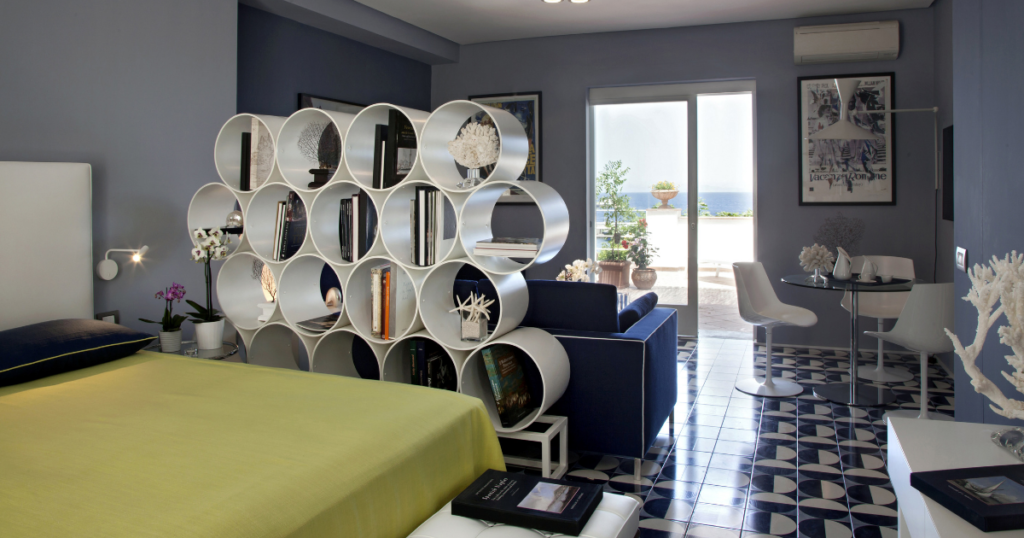 The benefit to having limited walls in your home is the feeling of cohesiveness in the space whether you live in a studio apartment or an area in your home where rooms are connected without a wall. However, putting up some type of barrier will be great for establishing functionality and privacy in each section of the space. Here are a few creative ways to achieve this without losing that spatial unity:
Folding Screen Dividers
You can never go wrong with dividing a room with something that's literally designed to do just that! Decide whether you want an opaque or translucent divider depending on how much privacy you want. However, we recommend choosing a translucent divider if you're looking to divide a section closest to a window where sunlight shines through. Feel free to decorate it with items like photos and fairy lights – just make sure you keep them to a minimum.
Bookcases
Bookcases are a great way to divide a room while also maximizing storage. Aim for one that's open on both sides like this one for usefulness on both sides. Fill it with the wide range of books in your collection. Not a bookworm? Items like candles, vases, picture frames, and others will also do the trick. Consider doubling the bookcase as a nightstand if you're dividing off a section for your bed.
Garment Rack
Have a great sense of style in both your home and fashion? If you have limited closet space, put some of your fiercest clothes in full display. Invest in a stylish rack that has shelf space to put your shoes, scarves, and other accessories – and if you find one that has wheels for easy mobility, that's even better! Stick to displaying outwear appropriate for the season and clothes that you wear the most often. Don't forget to have stylish, quality hangers as well!
Curtains
Need something that will temporarily divide a room and reopen in seconds? Much like room dividers, choose between opaque and translucent curtains depending on your need for privacy and lighting. This will be the most practical for separating bed space from the rest of the room. Just stray away from using shower curtains (they're called that for a reason!) and curtains that may look like they're from a hospital.
Sometimes when living in open spaces you may need to get a little more creative in having some privacy and defining what each part of the space should be used for. Follow these tips and you will find the right balance for your space.