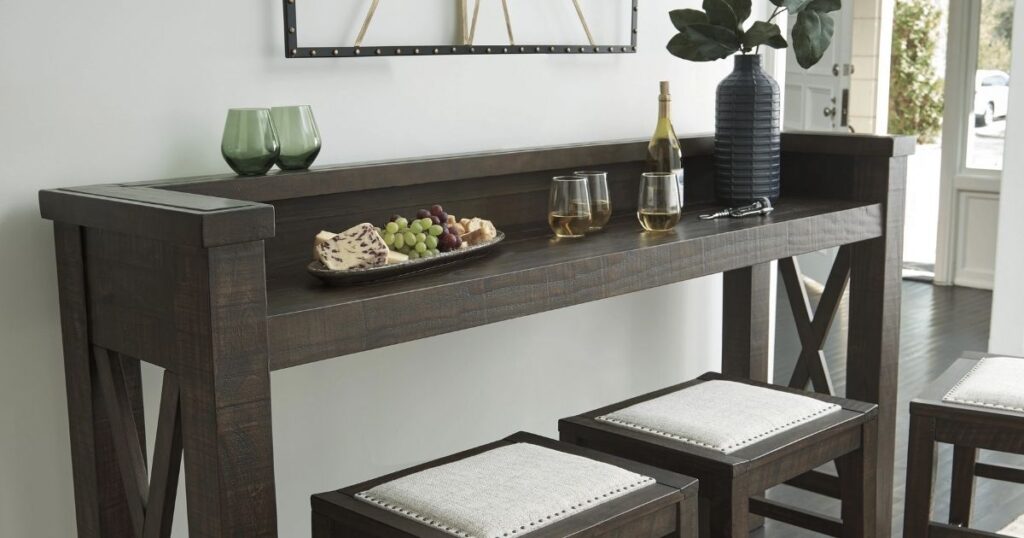 There is something special about enjoying friendships with a heartwarming glass of wine, especially at home. Sharing time, and wine, with people you love, transforms everyday moments into memorable celebrations. Today we are spending more time at home providing more opportunities for enjoying wine, or other favorite beverages together. Here are some delightful ways to toast good times right at home.
Romantic Night In
Love can always be in the air! Create an intimate, romantic living room atmosphere with this gorgeous Altonbury Sofa that is designed for two, or three if you count your fur baby. Chill your favorite bottle of wine, prepare a tasty charcuterie board, and get ready to cuddle up for a long romantic night together.
It's an At-Home Cocktail Hour
Impromptu gatherings are always in style in homes designed for entertaining. Gather everyone around this multi-tasking two-level cocktail table designed just right for displaying a festive arrangement of wines, snacks, and everything else needed for a cocktail hour in.
The Gathering Spot
The right furniture can magically transform an ordinary room into an extraordinary gathering spot. Elevate your dining room's style with this Kavara Table and Barstool set and get the good times rolling with good friends and great wine. This set is perfect for game night or catching up on the day's hot topics.
Versatile for Busy Lifestyles
We love the multitasking and eclectic design of our Halishaw Pub Table & Barstools. Displayed against a wall, It's a perfect spot for a couple to grab a quick bite to eat on a busy day. It is also perfect for doubling as a gorgeous table to display a wine collection and other cherished home accents. The barstools tuck right underneath the table and are handy when additional seating is needed.
From everyday essentials to affordable luxury, explore Marlo Furniture and find all the beautiful furniture and quality accents needed to create a home you love and love to share with others.