Decor
Redecorate Your Home With Delightful Summer Shades
On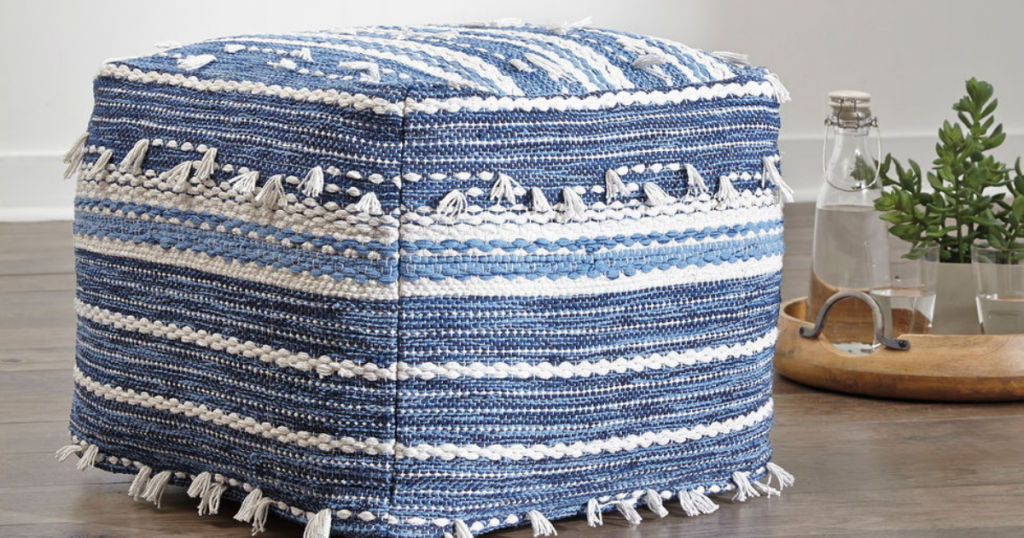 This is the summer of the staycation and time for you to make your surroundings as light and bright as a summer breeze. This can be accomplished with a fresh coat of paint, a new colorful area rug, or better yet, replacing worn furniture with fresh, new pieces. Three classic colors that are always in style are gray, blue, and yellow. These designer worthy colors will instantly breathe a summer vibe into your space.
Tried and True Blue
Blue is a fascinating color with so many shades to enjoy. Think of sky blue on a warm summer day, or a deeper shade like a gorgeous blue-violet. And we have to mention navy blue for its patriotic inspiration. Our Anthony Blue and White Pouf celebrates our beloved blue. The whimsical fringe creates a comfy flair perfect for summer occasions. A pouf is a versatile cushion that can be moved around the room and used as a footrest, a tabletop, or as seating.
Gorgeous Shades of Gray
Gray is the new black and it is having a decorating moment right now. If your furniture is looking a bit shabby, replace it with a new ensemble. Our Brise Slate Sofa Chaise and Accent Chair provide a modern edge with a classic touch of elegance. The solid slate gray chaise is accented with bold printed pillows that coordinate with the accent chair. The result is a gorgeous ensemble to set the stage for summer entertaining and everyday family gatherings.
Say "Yes" to Yellow
Yellow is sunshine. Yellow is happy. Yellow is golden on any summer day. Adding any shade of this cheerful classic to your home is a summer win, win! Our Majaci Gold Finish Console Table celebrates yellow's deeper golden tones. Display your favorite framed photographs, original artwork, and cherished collectibles on this console to celebrate your timeless memories.
Your friends at Marlo Furniture love summer and are here to help you refresh your home with colorful style.