DYI & Tips
Stress Awareness Month — Create a More Relaxing Bedroom
On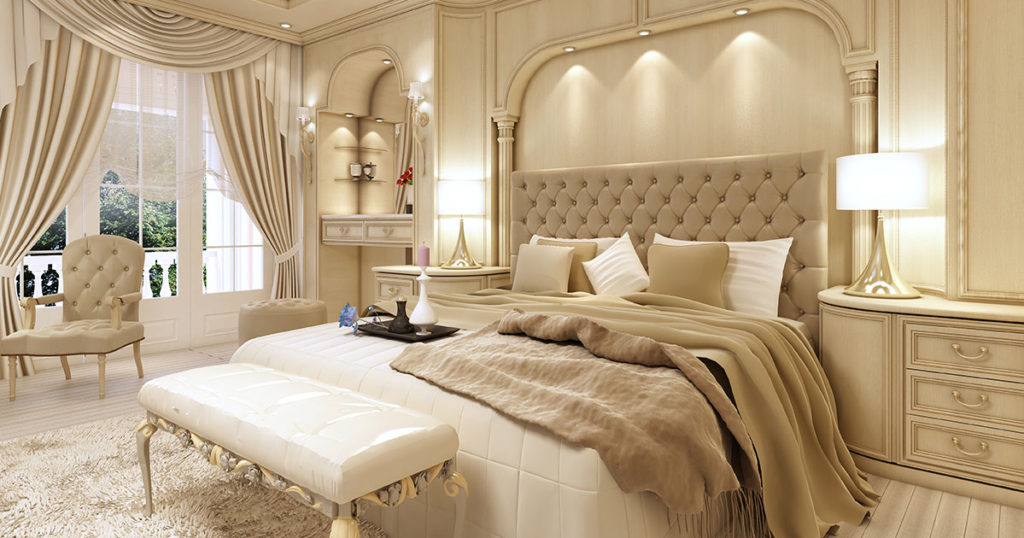 April is Stress Awareness Month—a time to look around at your lifestyle and your environment for opportunities to reduce your daily stress. In doing so, you are sure to find a number of ways you can enhance your usual routine and upgrade features of your surroundings, to help promote a greater sense of inner calm. Your bedroom is, of course, one of highest-priority areas to evaluate for its stress-reduction value, because its very purpose is to be your haven for relaxation. Here are a few tips for improving your space with bedroom furnishings and accessories that can contribute to a more tranquil sleep environment.
1. Upgrade Your Bed and Mattress
For the ultimate in a serene sleep space, make your bedroom as soothing and aesthetically pleasing as possible by choosing the perfect bed for your optimum sleep needs. Make your bed the centerpiece of your strategy for achieving the best possible sleep. Select a bed with an aesthetic quality that you enjoy, and with a mattress that provides you your personal version of ultimate comfort.
A beautiful bed with a plush, optimally comfortable mattress makes it easier to relax and to get the best quality of sleep. Improved relaxation and better sleep at night are important for feeling your best and for most effectively managing stress during the day.
2. Add Soothing, Adjustable Lighting
Add a sense of warmth and luxury to your bedroom ambiance with soft lighting provided by beside lamps in designs that you find aesthetically appealing. Select lamps with adjustable light levels, for a range of practical light level options. Replacing your bedroom lighting is a simple change that can go a long way to create a soothing atmosphere in your bedroom.
Adding lamps that suit your aesthetic sense can help afford you an experience of greater satisfaction and enjoyment of your bedroom as a calming private space. Enjoying your lighting choice as an expression of your personal style can add to feeling content with your lifestyle. And, pleasant lighting is a time-proven mood enhancing feature that is conducive to optimal relaxation prior to bedtime.
3. Soften Cold, Hard Floors with a Cozy Rug
The subtle and soothing look and feel of an aesthetically pleasing and comfortable rug that you enjoy is a must-have for the ultimately inviting bedroom space. You can take pleasure every day in the exceptional sense of warmth and beauty a quality rug can contribute to a bedroom space.
Choose a rug in textures and hues that you find soothing. A gorgeous rug that you enjoy gives your bedroom a fully finished look, and helps create an utterly tranquil space. And, stepping out of bed onto a warm, soft rug is a relaxing way to start every morning too.
Better Quality Bedroom—Better Quality Life
You spend about a third of your life in your bedroom. So, it makes sense to prioritize optimal comfort and a serene, pleasing atmosphere that makes you feel great about being in the space. Take time to choose both bedroom furniture styles and quality décor that are suited to your sense of style.
Combining a sense of aesthetic satisfaction and ultimate physical comfort in your bedroom elevates your sleep environment to one that is ideally conducive to relaxation and restful sleep. And, quality sleep is, of course, fundamental for optimum health, successful stress management and happiness.