Decor
Stylish Incorporation: Televisions in the Home
On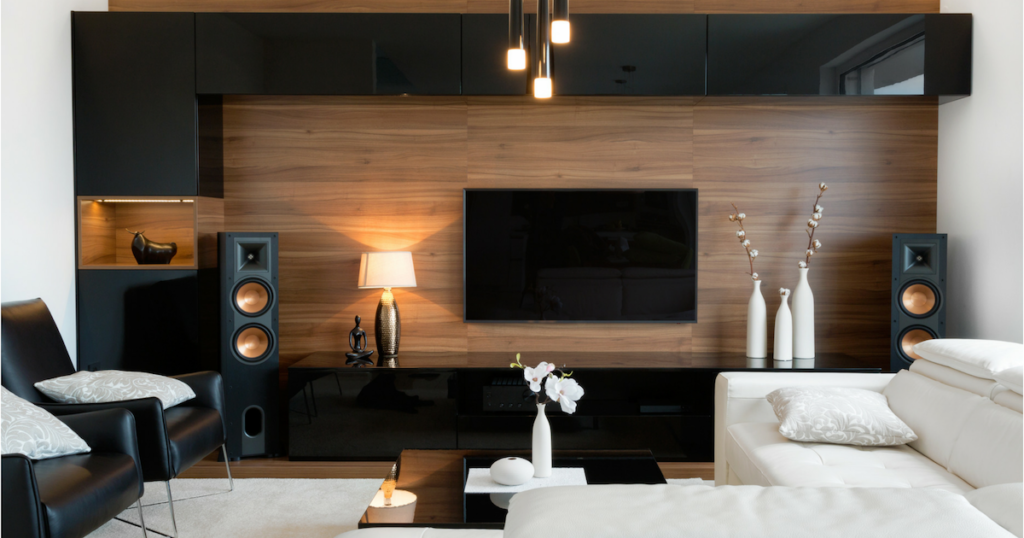 Newsflash: your home decor and technology do not have to exist oppositional from one another.  We all love coming home from a long day at work, cooking up a quick dinner, and kicking back on the couch to catch up on our favorite shows, but can this reality exist for someone who prides themselves on the aesthetics of their interior design? How do you balance a television with the rest of your decor theme? Before taking the loss and sacrificing the flow and vibe you've been going for by adding a television to a room, consider these factors:
Mounted Televisions
A mounted TV sets the stage for a clean and effortless look in the living room.  It gives the appearance that the television is simply a moving picture hung up on the wall.  Even better, mounted technology frees up extra space for you to incorporate other decor pieces that you perhaps haven't been able to.  If you have a fireplace, a few inches above it is typically the ideal location for mounted TVs. If not, hang the television around eye level to avoid neck strain for you or your guests.
TVs in the Bedroom
A general, relatively unspoken rule for styling bedrooms is to focus on relaxation and calmness – this means No. Technology. In the bedroom! However, if you argue that watching television in bed is a way to unwind after a long day and to ease you into sleep, then that's your personal preference and you should do what's best for you.  If that's the case, keep the TV use to a minimum and tuck it into an armoire to hide it from plain sight when it's not being watched.
Shelving and Storage
If you're looking for a more simplistic design and storage is not one of your concerns, choose a TV stand that flows with your living room design vision.  You should have enough space to store at least a DVD player or a cable box and some minimalistic decor without appearing overly cluttered. If more storage is needed, consider adding some shelving units around your television or investing in an entertainment center – just make sure you follow assembly directions in order to prevent any accidents! If you enjoy playing video games or plan on using your television for gaming and you need some extra space for consoles, controllers, etc., an entertainment center is highly recommended.  For a cleaner appearance, avoid leaving non-decor items (such as remotes) in plain sight; instead, keep them in small drawers or aesthetic storage baskets.