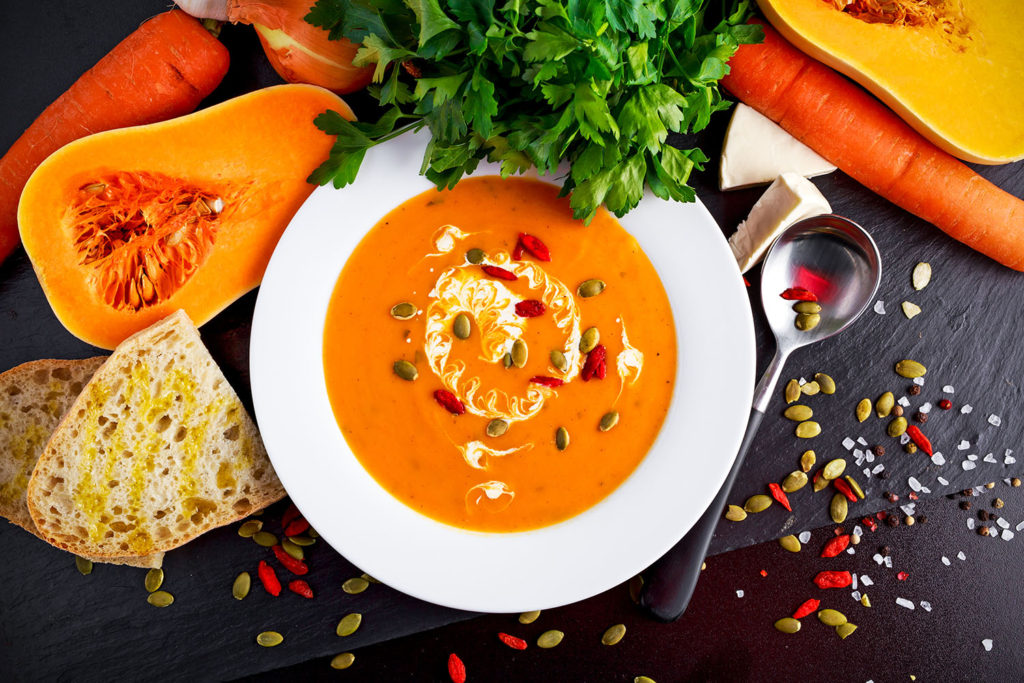 As cold winter winds blow even stronger and the snow shows no sign of stopping, bundling up for the drop in temperature seems less and less appealing. Take advantage of the winter weather to get cozy and relax indoors with these delicious and classic winter recipes that you can make today.
Roasted Chicken and Root Vegetables
This warming recipe packs in a lot of fiber, vitamin C, and folic acid which you may be short of during the long winter months. You can also take advantage of root vegetables which are in season.
Ingredients
Four boneless, skinless chicken breasts
Four slices of prosciutto
 One celeriac, peeled and cut into chunks
One swede, peeled and cut into chunks
Two large sweet potatoes, washed and cut into chunks
Two parsnips, washed and cut into quarters lengthwise
Two garlic cloves, thinly sliced
Two tbsp olive oil
One half tsp cumin seeds
Sprigs of sage
Directions
Preheat the oven to 400°F. Put the cut celeriac, swede, sweet potatoes, parsnips, and garlic into a large roasting pan. sprinkle with the olive oil and cumin, and season with salt and pepper. Toss the vegetables so they are lightly coated in oil. Put in the oven to roast for 30 minutes.
Place a few sage leaves on each chicken breast and then wrap each one with a slice of prosciutto.
Remove the roasting pan from the oven and turn the vegetables over and place the chicken on top. Roast for 30 to 35 minutes, until the vegetables are tender and the chicken is cooked.
Sweet Potato And Butternut Squash Soup
This recipe produces a velvety, spiced soup that is perfect for warming up a cold day.
Ingredients
One lb sweet potatoes, peeled and diced
One butternut squash, peeled, 

deseeded

, and diced
One tbsp honey
One tbsp olive oil
Two onions, roughly chopped
Three garlic cloves, crushed
One L vegetable or chicken stock
One tsp cinnamon
One tsp grated nutmeg
Three ounces double cream
Directions
Heat oven to 425°F. Place the sweet potato and butternut squash on a baking tray and add the honey and a drizzle of olive oil. Roast for 40 to 45 minutes or until it starts to caramelize on the edges.
Fry the onions in olive oil until soft, then add garlic, stock, cinnamon, and nutmeg. Bring to a boil and simmer for five minutes.
Remove the sweet potato and butternut squash from the oven and add to the pan with the stock. Blend everything until smooth with a stick blender. Stir in the cream and bring back to a slow simmer. Season with salt and pepper before serving.
Winter Fruit Salad
Make the most of an autumn and winter harvest with this tangy fruit salad.
Ingredients
One and a half lbs of ready to eat winter fruit such as pears, apricots, figs, cranberries, pomegranate, or prunes
Three tbsp honey
One vanilla pod, split lengthwise
One Earl 

Grey

 tea bag
One tbsp fresh lemon juice

Mascarpone

 or Greek yogurt
Directions
Put the fruits and three cups of cold water into a large saucepan. Add the honey and vanilla and bring to a boil. Stir well, lower the heat and simmer for 10 minutes or until syrupy.
Take the pan off the heat and stir in the tea bag. Let stand for 10 minutes to infuse.
Discard the tea bag and vanilla pod. Put the fruits and liquid into a non-metallic bowl and pour in the lemon juice. Stir and leave to cool. Chill until ready to serve.